The world of chess has seen a number of talented and brilliant minds over the years. Some have been World Chess Champions for decades, while others were short-lived but nevertheless spectacular. Find out more about some of the most brilliant players in the history of the sport!The history of the World Chess Championships is marked by long matches between great players who defended their title for years or even decades.
Today the World Chess Championship retains the essence of years ago but is presented in several game modes: blitz games, rapid chess and classical chess with a much slower pace of play.
Since the last quarter of the 19th century, when Wilhelm Steinitz became world champion, the official recognition of the sport has undergone several changes. With the successive great champions, among them Emanuel Lasker, José Raúl Capablanca and Alexander Alekhine, came an era dominated by chess players from the Soviet Union, who would maintain interesting duels for the title of world champion.
Chess is one of world sports that require the finest technique, strategic thinking and logical reasoning. The first World Chess Championship was held in 1886 and since then, the sport has seen a select group of brilliant minds. After reading this article you will get an overview of some of the world chess champions.
♟️ World Chess Championship: Separating the Professionals from the Amateurs
The World Chess Championship is an event used to determine the world champion in chess games. The event allows both eligible men and women to compete for the title. There is also a separate event for women, where players compete for the title of Women's Chess Champion.
For several years, the World Chess Championship has produced a number of world champions.
Since the last quarter of the 19th century there has been a recognized World Chess Championship. The championship was won by many great champions, such as Emanuel Lasker, José Raúl Capablanca, Alexander Alekhine and Bobby Fischer. Mikhail Botvinnik and Anatoli Karpov dominated during their time as champions and remain legends in chess history.
Another schism occurred in 1993 when Garry Kasparov took on the International Chess Federation (FIDE) for governing rights and contested his own World Chess Championship. He helped create the Professional Chess Association (PCA), which organized its own World Championships, but lost control of the organization when Vladimir Kramnik assumed the presidency in 2006.
♟️ The Birth of the World Chess Championship
Although it was believed that the official world championship was held in the year 1886, where two leading chess players played a match, those events were held informally. It was not until the year 1943 when FIDE, an international chess organization, began to administer the world championships.
In 1886, there were several unofficial championships that began with Wilhelm Steinitz; Wilhelm competed against Johannes Zukertort. However, there were several other players who were considered to be the strongest and most famous in the world extending back hundreds of years beyond the two. Moreover, these players were also considered as world champions during their time and include Ruy Lopez de Segura, Paolo Boi, Leonardo da Cutri, Alessandro Salvio and Gioachino Greco.
In the rest of the 19th century, world championships were held informally. Games were initiated by players seeking financial support for a match purse and to challenge the reigning world champion; whoever beat the reigning champion would be the new world champion. The systems had no formal qualification procedure. Still, this The old tournament system produced several world champions who were the strongest of their era.
The FIDE controlled events began during the year 1948, where the reigning champion, Alexander Alekhine died and threw the chess world into chaos. Due to his death, the informal system was not adequate enough to find the methods to produce a new world champion as there was no one to challenge with.
During that time, the Soviet Union, then considered the most powerful chess nation, joined FIDE to become part of the process of selecting a new world champion.
FIDE organized matches in 1948 between five of the world's strongest players, namely Vassily Smyslov, Mikhail Botvinnik, Paul Keres, Max Euwe, and Samuel Reshevsky. Mikhail won the tournament and was declared the new world champion. FIDE then continued to organize world championships thereafter.
♟️ The System for the World Chess Championship
Because the informal system was not adequate enough to be used for untimely events, such as player death, a new system was introduced to determine how a player could qualify for the title of world champion. The new system begins with the world's strongest players being seeded in interzonal tournaments.
Eventually, the players would be joined by other players who qualified from various zone tournaments. The top finishers from the interzonal tournaments would qualify for the Candidates event, which was originally a tournament and later morphed into a series of knock-out competitions. The player who won the candidates tournament would qualify for a match with the champion king for the championship title.
If the reigning champion lost the matches, he would be given the opportunity to play in a three-year event three years later. The event would include the first champion, his new successor, and the next challenger, who is qualified to challenge the new world champion.
Throughout my life I have been fortunate enough to match in some event or tournament with every world champion since Anatoli Karpov and I have been able to play with three of them: the brilliant Kasparov, the Norwegian Magnus Carlsen and the Uzbek Kasimdzhanov now coach of Fabiano Caruana.
👑 List of World Chess Champions
This is the complete list of legendary players and world chess champions throughout time from Wilhelm Steinitz to Magnus Carlsen. This is a unified list among all champions as in recent years there has been a process of unification among all organizations to determine who is the World Champion.
Wilhelm Steinitz → 1886-1894
Emanuel Lasker → 1894-1921
José Raúl Capablanca → 1921-1927
Alexander Alekhine → 1927-1935 and 1937-1946
Max Euwe → 1935-1937
Mikhail Botvinnik → 1948-1957, 1958-1960, 1961-1963
Vasily Smyslov → 1957-1958
Mikhail Tal → 1960-1961
Tigran Petrosian → 1963-1969
Boris Spassky → 1969-1972
Bobby Fischer → 1972-1975
Anatoli Karpov → 1975-1985
Garry Kasparov → 1985-1993, 1993-2000 (PCA)
Vladimir Krámnik → 2000-2006 (PCA), 2006-2007
Aleksandr Khalifman → 1999-2000
Ruslan Ponomariov → 2002-2002
Rustam Kasimdzhanov → 2004-2005
Veselin Topalov → 2005-2006
Viswanathan Anand → 2000-2002, 2007-2013 (Unified)
Magnus Carlsen → 2013 – Present.
👉 Last Match for the World Chess Championship Carlsen vs Nepomniachtchi.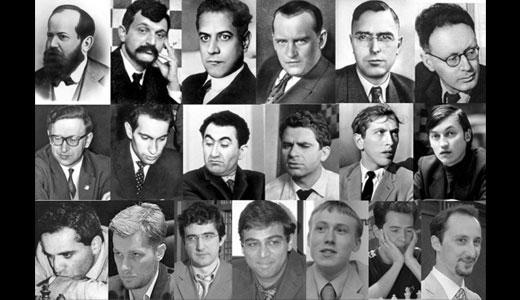 If you love playing chess, then you've probably heard about some of the world's greatest players. Learn a bit about world chess champions and their incredible achievements.
The World Chess Championship is a yearly competition that determines the world's best chess player. It has taken place since 1886, when Wilhelm Steinitz became the first world champion. Since 2013, the owner of the throne is the Norwegian Magnus Carlsen. Learn more about some of history's greatest minds in this guide!
Wilhelm Steinitz
Wilhelm Steinitz (Prague, May 14, 1836-New York, August 12, 1900) was an Austrian chess player who was the first official world champion between 1886 and 1894. He also discovered many strategic principles on which modern positional play is based.
Wilhelm Steinitz was an Austrian-American chess player and the first undisputed world champion. In the early years, his style of play was quite sharp, aggressive and full of sacrifices. Later he came up with his own scientific theory enunciating the principles of chess: both attacking and defending.
Wilhelm Steinitz was the first official world chess champion. His style of play, focused on controlling the center and dominating open lines, advanced positional play.
Emmanuel Lasker
Emanuel Lasker, (born December 24, 1868 in Poland and died in New York in 1941), was a German chess master, the World Champion from 1894 to 1920, who is often regarded as one of the greatest players of all time.
He beat Steinitz for the world chess championship title and went on to a series of impressive tournament victories in St. Petersburg, Nuremberg, London and Paris before concentrating on his education. In 1902 he received his doctorate in mathematics from the University of Erlangen-Nürnberg in Germany.
The German chess player Emanuel Lasker was born on December 24, 1868 in Berlinchen. He was the second world chess champion from 1894 to 1921. In his career, Lasker won five world championship titles, being an extraordinary strategist and interpreter of his own thinking. He became world champion at the age of 25 after defeating Steinitz, but held this title for 27 consecutive years until 1921, when he lost in Havana to Capablanca.
José Raúl Capablanca
José Raúl Capablanca y Graupera (Havana, November 19, 1888. New York, March 8, 1942) was a Cuban chess player, third world chess champion from 1921 to 1927. Because of his precocious genius and his aura of invincibility in that golden age he was called the chess machine. This book describes Capablanca as a phenomenon who dominated his opponents in all the modalities of the game.
In my phase of development of the game until I reached the title of International Master he was one of the world champions who most influenced my game, with an exceptional understanding of the game, a calm game and very clear fundamentals that allowed him to dominate an entire epoch.
Alexander Alekhine
Aleksandr Aleksandrovich Alekhine (Russian Александр Александрович Алехин) (October 23, 1892 – March 24, 1946) was a French and Russian chess player. He was world chess champion during 1927-1935 and 1937-1946 and one of the strongest players in the history of chess thanks to his great understanding of combinative play and ability to find extremely strong moves on the chessboard.
Max Euwe
Max Euwe Euwe (Max) Machgielis (Dutch pronunciation: /ˈøːʋə/); (Watergraafsmeer, May 20, 1901-Amsterdam, November 26, 1981) was a Dutch chess player, fifth world chess champion between 1935 and 1937, and president of FIDE between 1970 and 1978.
Mikhail Botvinnik
Mikhail Moiseyevich Botvinnik (Kuokkala, 1911 – Moscow, 1995) was a Soviet chess player and one of the most important players of the 20th century. He was world champion from 1948 to 1957, from 1958 to 1960 and from 1961 to 1963. Seven times champion of the USSR and member of the Soviet Olympic team that won the 1954, 1956, 1958 and 1964″ Olympics.
Botvinnik's work is indispensable material for the improvement of chess play at all levels. He marked a new era in the understanding of the game with great positional advances in positional and dynamic play that allowed him to reign the chess world for several decades while leaving an outstanding legacy for Russian chess.
Vasily Smyslov
Vasily Smyslov was the seventh world chess champion in history. He was one of the strongest players in the world for many years, winning a large number of tournaments, but above all his epic duels with the sixth world champion, Mikhail Botvinnik, have gone down in history.
Vasily Smyslov was sometimes considered the strongest player in the world. He was a candidate for the World Championship six times, finally winning it in 1957. I love his strength of play, study of endgames and understanding of positional play.
Mikhail Tal
The eighth world champion, Mihail Tal, was known as "The Wizard of Riga". His style was unorthodox and aggressive and his attacking play was brilliant. Many consider him to be the greatest attacker in the history of chess. Mikhail Tal was a Latvian chess grandmaster who rose to the top of the chess world as the youngest ever World Champion. Mikhail Tal was a unique and flamboyant player, who brought excitement to chess tournaments and games, both when he played and when watching him play.
Tal is considered by many to be the greatest attacking player in history. In a career that lasted only twenty years, he played more often and more successfully than any other grandmaster. He loved to play in positions where he had a good chance of winning in the opening, but his strength was not so much in working out long endgames, as Karpov and Kasparov could do, but in coming up with surprising ideas that put his pieces or his king in an advantageous position from the start.
Tigran Petrosian
Tigran Petrosian was a Soviet chess player of Armenian origin. He was the ninth world chess champion between 1963 and 1969 and is considered by many to be one of the best defensive players in history.
Petrosian was known as a very practical player. He defended carefully and waited for his opponent to make a mistake. He had a keen sense of tactics and showed great patience in waiting in openings until he had adequate compensation. Like the Austrian player Rudolf Spielmann and other strong chess players, he was an opening theorist, but, unlike most of them, he never wrote down his ideas for publication so that posterity could learn from his analyses. The main source of his theoretical contributions is the large number of games he played during his practice sessions with others. Petrosian's games are very similar to those of Alexander Alekhine; he usually adopted a flexible defense that allowed him time to plan counterattacks against any kind of attack or positional initiative by Black. His style was very positional, in contrast to the tactical nose of Mikhail Tal, Tigran Petrosian dominated chess in the 1960s, winning three world championships and six USSR championships.
Boris Spassky
Boris Spassky is the tenth world chess champion who won his game against Tigran Petrosian on January 31, 1969. Boris was born in Leningrad, USSR, on January 30, 1937 and currently resides in France.
Boris Spassky is a Russian grandmaster and chess champion. He was world champion from 1969 to 1972, successfully defending his title in 1969 and winning two other tournaments in that period. He made contributions to the theory of chess openings, in particular with the English Opening, 1. c4, which bears his name: the (Spassky) Variation, or in the open or closed Sicilian Defense where he contributed a lot of new ideas and important victories.
Bobby Fischer
Bobby Fischer, chess grandmaster, world champion from 1972 to 1975 and one of the best chess players in history. He defeated the Soviet Boris Spassky in the so-called "Match of the Century". However, after winning the title, he never played in international tournaments again. His country issued a search and arrest warrant against him in 1992 for having played another match against Boris Spassky in Yugoslavia, a country against which the United States had decreed a blockade.
Bobby Fischer was only thirteen years old when his father died in a car accident and he decided to leave school because he was not happy there. He began to study chess on his own and had the goal of becoming a grandmaster: a chess player who has won the highest title in international competitions. When he was considered old enough to compete, he quickly gained popularity as an excellent player. His extraordinary talent, his drive for perfection and his capacity for dedication made him take chess very seriously.
Bobby Fischer was a genius, who achieved one of the greatest and most important things chess can offer: to become World Chess Champion. In 2008, he died tragically in Iceland, where he moved after being forbidden to leave the United States.
Anatoli Karpov
Anatoli Karpov is a Russian and former Soviet chess player, who dominated the chess world from 1975 to 1985. He became World Chess Champion when he knocked Bobby Fischer off the pedestal in their title match in 1978. Tolya is considered a national hero, born and raised in Russia, but has competed all over the world.
Anatoli Karpov is a Russian chess player who rose in the world of competitive chess to be considered the best player in the world. He became known for his tactical skill, which he combined with his ability to play long chess games. His style is both aggressive and defensive, and is based on the fact that he was able to play long games of chess.
Garry Kasparov
Garry Kasparov is perhaps the greatest chess player in history. For nearly two decades after becoming world champion in 1985, he dominated the game with a ferocious style of play and an equally ferocious stream.
Outside the chess world, however, Kasparov is best known for losing to a machine. In 1997, at the height of his powers, Kasparov was crushed and turned on by an IBM supercomputer called Deep Blue. The loss sent shock waves around the world, and seemed to herald a new era of machine dominance over man.
My game with Garry Kasparov is an online chess simultaneous where the World Chess Champion faced several Internet users from the Madrid headquarters enabled by País Digital. Undoubtedly a pioneering event in online chess that marked the way forward for the online chess game.
Vladimir Kramnik
Vladimir Kramnik, born June 25, 1975 in Tuapsé, Soviet Union, is a Russian International Grandmaster and fourteenth world chess champion. He was chosen by Gari Kasparov to be his 2000 challenger when the latter was going through a bad personal moment. Kramnik defeated Kasparov in 16 games in London.
Vladimir Kramnik has a positional style and boasts a great defensive technique. Thanks to this style, Kramnik reports great successes achieving many draws and winning some games with White. With the black pieces he is better known for being very comfortable with draws but in some cases achieving impressive victories.
Viswanathan Anand
Viswanathan Anand "Vishy" or the Madras Rapid is a chess grandmaster, former world champion and considered one of the best chess players in history. He won this championship twice, in 2000 and 2007.
Viswanathan Anand is considered one of the best chess players in history, recognized for his speed of decision, his calculation capacity and his general precision. Anand first became Asian Champion in 1987, at the age of 18, and went on to win major grandmaster tournaments in 1989 and 1990. He was FIDE World Champion for five years, from 2000 to 2002, and again from 2007 to 2013. On both occasions he set records for consecutive wins in chess tournaments: 20 consecutive wins between 2000-2002 and 29 in a row between 2007-2010.
Rustam Kasimdzhanov
Chess grandmaster Rustam Kasimdzhanov was born in Tashkent, Uzbekistan (in 1979, it was still part of the Soviet Union). He started playing chess very early and soon after, he won the Asian Continental Championship. In 2002, he reached the final of the World Cup (held in Hyderabad, India), losing to Vishy Anand. In 2004, somewhat sensationally, he won the World Championship in Tripoli earning the right to belong to the select group of world chess champions.
In his victory for the World Championship Kasimdzhanov unexpectedly made his way to the final, winning his matches against Alejandro Ramirez, Ehsan Ghaem Maghami, Vassily Ivanchuk, Zoltán Almási, Alexander Grischuk and Veselin Topalov to meet Michael Adams to play for the title and the right to face the world number one. Garry Kasparov in a match. In the final six-game championship match, both players won two games, necessitating an onslaught of rapid games. Kasimdzhanov won the first game with black, having been in a difficult position. By drawing the second game, he became the new FIDE champion.
One of my best games in the World Junior Championship in which I faced the player who would later become world champion, Rustam Kasimdzhanov of Uzbekistan, after avoiding some repetitions that would have forced a draw.
Magnus Carlsen
Magnus Carlsen is a Norwegian chess player who won the World Chess Championship in 2013, becoming the second youngest World Chess champion at the age of 22. A chess prodigy, he had become a grandmaster at the age of 13 in 2004, and was ranked No. 1 in the world in 2010 when he was only 19 years old. At that time, he was the youngest chess player in history to be ranked No. 1 in the world. He is currently the reigning world chess champion.
On the old Internet Chess Club servers I was lucky enough to play and beat Magnus Carlsen when he was not yet world champion in one of his favorite defenses The Spanish Opening!
Undoubtedly to improve your level of play in chess you should consider studying the world champions. My recommendation is that you start with Capablanca, Botvinnik and Fischer. Although you should study all their game collections, it is worthwhile to go step by step. In a next round I would go for examining the play of Kasparov, Alekhine and Tal who have a much sharper approach to the game and undoubtedly marked an epoch.